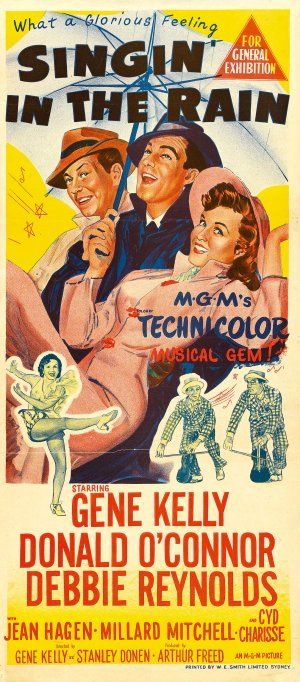 "C'mon, girls! Brush your hair, brush your teeth and get your shoes on. We're leaving."
"Where we going, Daddy?"
"Move it, girls. We're outta here."
"Is it a surprise?"
"Not to me. Get moving!"
They run up the stairs, chattering speculation as to what we are about to do.
The day's list is long and despite a morning's effort, nothing is getting checked off. I'm frustrated. That's when our friend Shirley texted that the local theater was doing a special 60th anniversary screening of "Singin' In The Rain".
The practical thing to do would be to get tickets to the evening show and try and get some work done in the afternoon.
I've been practical all week. Getting work done, yes.
Making memories with my kids? Not so much.
Evidently my kids are tired of practical, too. They are thrilled when I tell them we're going to a movie and not running an errand at Wal-Mart.
Inside the theater, tickets in hand, we wait for the doors to open. Annie and Emma are fizzy with energy. Like pouring a 20 ounce soda into a 12 ounce cup. It's gotta go somewhere. They decide to jump up and down 100 times, counting out loud.
Over their bouncing heads I see a 60-something woman escorting her 80-something white haired mother across the lobby. The daughter has a hold on her Mom's elbow, steadying her as she baby steps toward us. Mom's expression is one of tolerance and nothing more.
"You'll love this, Mom. It's one of your favorite movies."
Mom stares straight ahead. She doesn't want to be here. The daughter continues to talk to her about "Singin' In The Rain". About Gene Kelly and Donald O'Connor. Then I realize what's happening. Mom's memory isn't what it used to be. The daughter is trying to coax a recollection and in doing so bring some joy to her Mom. And some joy to herself.
"…96, 97, 98, 99, 100!"
"Let's do it again, Annie!"
"Let's not, Emma. You two might bump into someone."
Thankfully, they open the doors. We find a seat near the top. Annie on the aisle, then me, then Emma.
The daughter and her mother take the seats in front of us. After a minute or so, Mom finally speaks.
"I want to go home."
"Mom, you'll love this. Just stay here and watch it with me."
"I want to go home."
The daughter squeezes her Mom's hand and puts an arm around her shoulder. "Mom, please stay here and watch the movie with me. I know you're going to like it."
Maybe she talks her into it. Or maybe Mom resigns herself to the fact that her daughter is her ride back. She sits silently, staring straight ahead.
After 50 minutes of previews and interviews on the making of the movie, it finally begins. My girlies lean against me like pony-tailed bookends, munching on Skittles and watch the best dancing and choreography they've ever seen.
That's when I hear it. Just slightly above the volume of the soundtrack. It's on pitch and in time. And in perfect synch.
I lean forward.
It's the Mom. Humming the tune of every song in the movie the way one does when they've memorized something front to back.
Memories.
I'm making some to send on ahead. So if "Singin' In The Rain" celebrates a 100th anniversary my girls can hopefully remember watching it with their Dad.
The Mom is reaching back, pulling up memories she made way back when in 1952. Because she made them then, she has something to remember now.
So get going.
Move it.
Brush your hair, brush your teeth and get your shoes on.
You know what to do.
"Memories are times that we borrow, to spend when we get to tomorrow."
– Paul Anka
Todd A. Thompson – July 13, 2012