I found the old and yellowed newspaper clipping while going through a suitcase of memorabilia belonging to my Grandparents. From sometime around 1940 the bold print heading reads, "Lagerquist, 70, Preacher, Dies".

I'd never heard my Grandparents speak of the Reverend Arvid Lagerquist but given their roots in the Swedish Baptist Church, they must have known him. The obituary says the Baptist evangelist who resided at 1238 E. Thirteenth Street in Des Moines, Iowa died in his sleep.
Born in Sweden, he later came to the United States. Attending a seminary in Illinois, he became an ordained minister who served churches in Kansas, Iowa, and Nebraska before becoming a missionary for the Swedish Baptist Conference. In that role, he did evangelistic campaigns, research, and pulpit supply.
In setting the clipping aside, I happened to turn it over. On the backside of Reverend Lagerquist's obituary was a perfectly framed photo of Abe Reles. Below his name, a single line reads, "Admitted Killing 11".
Abe Reles was an infamous hitman for the National Crime Syndicate. Known as "Murder, Inc", Reles was a ruthless murderer who carried out contract killings for various organized crime families. His favorite method of killing was to expertly ram an ice pick into the ear of his victim, causing a cerebral hemorrhage.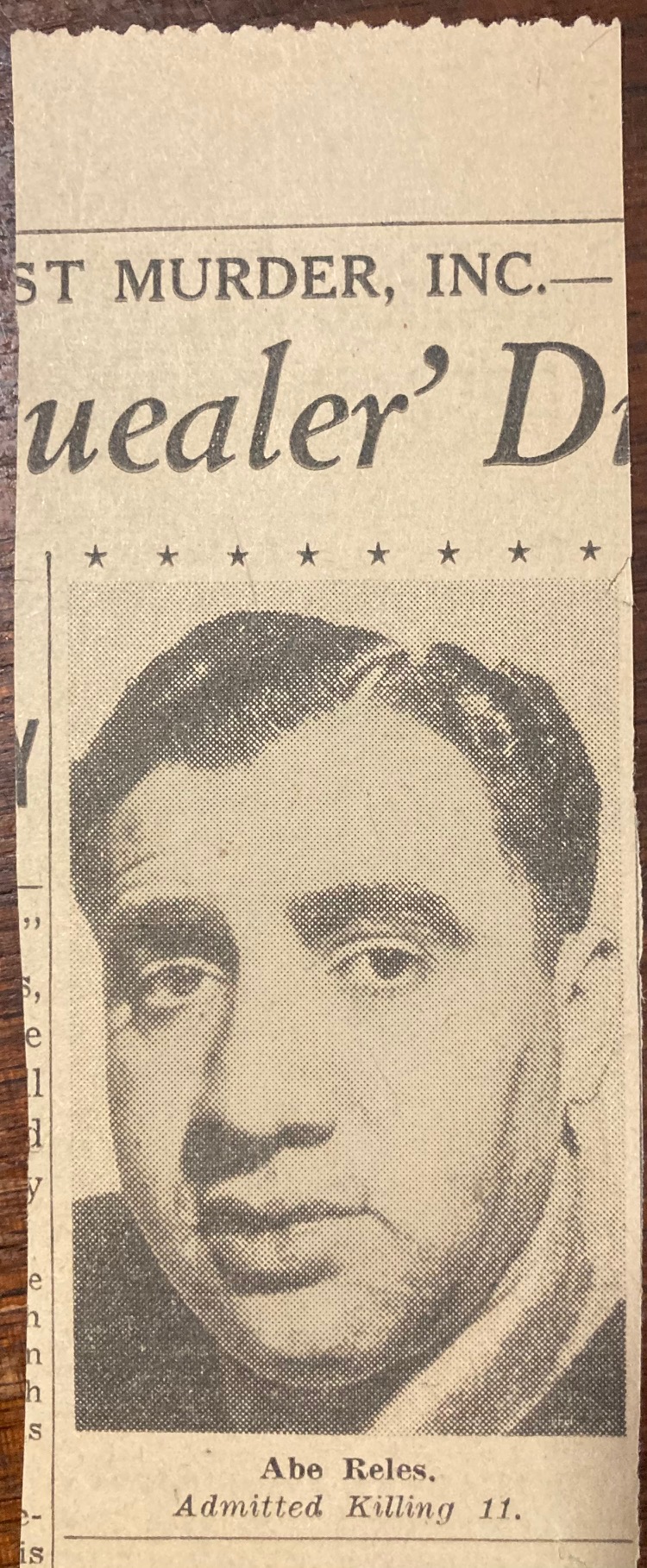 Reles' literally led a life of crime. Beginning with his first arrest as a teenager for stealing $2 worth of gum to ultimately being arrested for multiple murders. When he realized his number was up, he turned state's witness. His testimony sent friends and fellow criminals to jail. Some even to the electric chair.
The night before he was to testify against mob boss Albert Anastasia, he was being kept under guard at the Half Moon Hotel. The story is that he fell to his death while trying to escape. Most reasonable people believe the cops guarding him were paid off to "help" him fall out of the 6th story window.
One newspaper clipping with two sides. On one side, a man few ever heard of. On the other, a man who made national and world news. Both men were born, lived their life, and died.
I've had the honor of preaching many funerals over the decades. For immediate family members, dear friends, acquaintances, and a surprising number of people whom I'd never met. Yet the family needed someone to tell their story.
The question everyone has when driving away from a funeral is, "When I'm gone, will anyone remember me?"
The answer is an unqualified "yes". You will be remembered.
The better and more important question is, "How will I be remembered?"
For most of us, the only time we make the newspaper is after we're gone. Is our obituary a newspaper clipping anyone would want to keep?
Pastor and Bible teacher Alistair Begg put it this way, "Live your life so as to be remembered. But to be remembered for the right reasons."
How are we doing on that?
Let's purpose every day to live so as to be remembered for all the right reasons.
Todd A. Thompson – One Eye Out