In the early years of his late night television show, David Letterman went into the studio audience to ask people for stories about their random encounters with famous people. He called the segment "Brush With Greatness".
As far as celebrities go, my "brush with greatness" list isn't very long. You don't meet many celebrities while driving a John Deere tractor on the Iowa farm. Plus, I've never been one who cared much about fame. That, too, is part of growing up in Iowa. We have a solid sense of who we are, including an understanding people are people and they all put their pants on the same way. (Except for some of the strange britches sported by some Hollywood types. But the point remains.)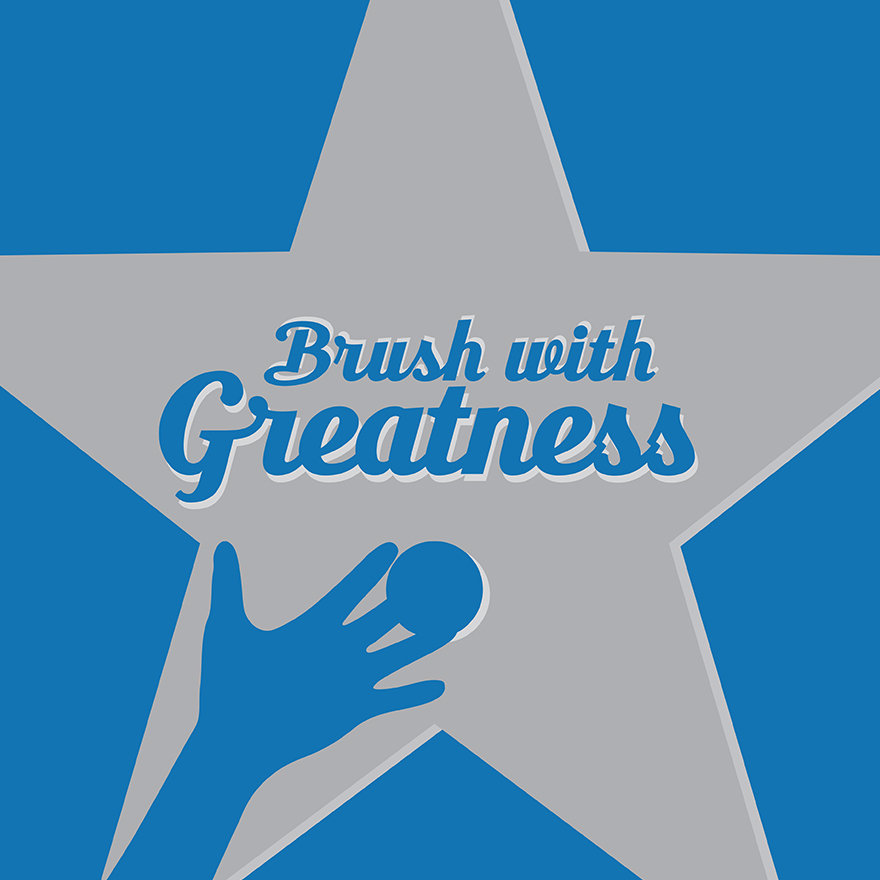 I don't have any pictures of myself with famous people. Except somewhere there's one with me and Norma Zimmer, the "Champagne Lady" of the Lawrence Welk Show. She was every bit as kind as she appeared on TV. Other than that my list is short. During my time working concerts at America West Arena I sold t-shirts to comedian David Spade, Los Angeles Lakers coach Luke Walton while he was still a college basketball player, and musician Bruce Hornsby of "Bruce Hornsby and the Range". I rode up and down in the elevators with a small handful of Phoenix Suns players. And I got to know the parents of Steve Nash as they were regulars in our store. Though I always wanted to meet their son, I never had opportunity.
I did have a literal brush, or should I say "bump", with greatness one Saturday afternoon in downtown Scottsdale. I'd just finished a hike up Camelback Mountain when my blind side body checked a guy coming out of a dessert shop. I apologized profusely. He politely said, "Hey, no problem" and we both kept walking. A few minutes later it dawned on me that I almost made tennis player Andre Agassi wear the ice cream cone he'd just purchased.
When we talk about famous people and our encounters with them, it reflects a desire to be part of something bigger than ourselves. A brush with greatness makes us feel, if only for a moment, that we're connected to something grander. When we do meet them, most often we realize they aren't that different. How many times have you listened to someone's "brush with greatness" story only to hear them conclude with, "They were just like regular people"?
Too often our relationship with God amounts only to a brush with greatness. We bump into Him on Sunday mornings and maybe Wednesday evenings. We enjoy it when we happen upon Him in a pretty sunrise or in an answered prayer. We like the idea of having access to something bigger than ourselves.
When we stop rushing around to actually meet the Famous One, the living God, we understand immediately He is anything but regular people. He is the One true sovereign God. There is no other. When we come face to face with God's sovereignty, we know we have a choice to make.
Sinclair Ferguson said of God's sovereignty, "No truth about God is more likely to evoke either humility or rebellion." When we come face to face with the infinite greatness of God, we either bow our hearts in submission or we rise up in proud defiance. We either acknowledge God owns and rules and exercises complete control over His world or we double down and dig in, shoring up the ground around the idol of our pride.
Last night I ended a long day by relaxing outside in the hot tub. Leaning back I looked straight up. Through the shadowy branches of the hackberry tree I watched them twinkle, a sea of stars God had sprinkled over the dark sky. Behind me, a white dot moon reflected it's light on the surface of the lake. The words of Psalm 8 came to mind. "When I consider your heavens and the works of your hands, the moon and the stars which You have made, what is man that you would take thought of him?" 
Indeed. Who am I, who are you, that God would take thought of us? The God who hangs all the stars in the sky, spreads out the heavens like a tent and uses the earth as a place to rest His feet (Isaiah 40), that God loves us. He has compassion on us as a father has compassion on his children (Psalm 103). His loyal love endures forever (Psalm 107). His plans are to give us a hope and a future (Jeremiah 29).
There are brushes with greatness.
There are autographs from greatness.
There are photographs with greatness.
Even better?
Realizing The Greatness wants a forever friendship with you.
Todd A. Thompson – toddthompson.net