I called my friend Andy Wood and asked, "Do you ever have moments where you realize that life is a freak show…and we're the freaks?"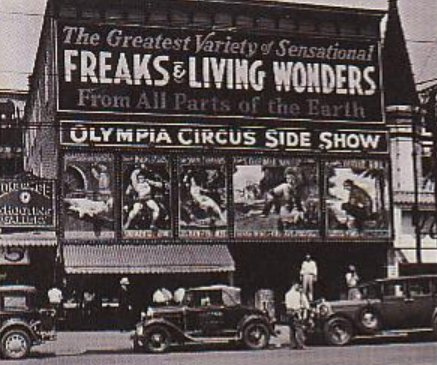 "Ladies and gentlemen, hear ye, hear ye! Step right up! Welcome to the Freak Show! Behind these doors is the biggest group of mystifying misfits ever gathered under one roof. Forget the Bearded Lady and the 12-Toed Man. Never mind Lizard Girl and Penrod the Mind Reading Chicken. Zoltan the Cyclops has nothing on this collection of mutants and ner' do wells.
But take heed! Do not enter lightly. These are not strangers passing through town. No! They are your friends and neighbors. And yes, hold on to your hat, even your very own family!
Yes, indeed! Step right up if you dare to get a close look at the biggest freak show on earth! Inside these doors you'll find…
Business owners faithfully tithing off profits from their illegal schemes!
Choir members singing hymns on Sunday and gossipping Monday through Saturday!
Deacons denouncing divorce while gorging themselves to gluttony!
Treasurers stealing their company blind!
Be sure to stop and see Haughty Harriet, the back-biting Bible study leader! But be warned, do not look directly into her eyes!
But wait! That's not all! Inside these doors you'll see unteachable teachers and pious pilfering preachers!
You'll meet closet smokers and behind the curtain drinkers! And don't forget addictions of every kind!
There's Business Card Bob and Ned the Networker. Vicky the Victim and Nancy Narcissist. Prima Donna Alana and Judgmental Jerry.
I know what you're thinking. "Will I get my money's worth?" Friends if you only knew…behind these doors you'll find Paul and Polly Political. And keep your children close when going past "Hate the Sin and…what the heck, Hate the Sinner" Sam.
Yessir, ladies and gentlemen if you're still standing at the end you'll meet the most frightening freak of all…the saint who's forgotten what it's like to be a sinner!
I know you're ready to pay your money and take your chance. But I've got to tell you one more thing. This is not for the timid or faint of heart. For those brave souls willing to go face to face with the scariest freak they've ever seen, just one extra dollar gives you access to the horrifying, terrifying Mirror of Truth!"
Yes, indeed ladies and gentlemen. It's a freak show.
And we're the freaks.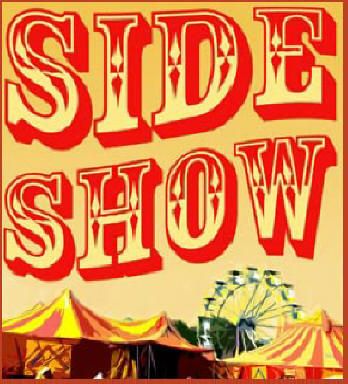 Though no doubt some will castigate me for saying so, I'll say it anyway. When we consider the corporate mess of humanity that makes up the church and that the church is the bride of Christ, it's not hard to wonder why He picked the ugliest girl to marry.
Yet He did. In spite of our sin and betrayal and fickle hearts, in spite of our despicable treatment of each other, in spite of our arrogant, self-absorbed and over inflated opinion of ourselves, Jesus picked the church to be His bride.
It's a freak show. And we're the freaks. Apart from Christ, we are sinful people with a fallen sin nature. The irony of our fallen sin nature is that it prevents us from knowing how truly fallen we really are. It's one of the enemy's best and most often used tools. If he can keep us busy looking around, comparing ourselves with everyone else at the freak show, we never look in the mirror to see the freak that we are. And if he can get us to believe that our freakyness isn't as extreme or as bad as the others at the show, we'll never look into the mirror of God's holiness.
On the first night of a theology class at Phoenix Seminary, Dr. Steve Tracy said to us, "Of all the Bible doctrines, the doctrine of sin is the most important. Because if we don't understand our sin, we can't fully appreciate the miracle of God's salvation."
He's right.
I said to my friend Andy, "Do you ever have moments where you realize that life is a freak show…and we're the freaks?"
Andy answered, "Isn't it great that Jesus stepped into our freakness? He became one of us for the purpose of saving us."
Amen.
"For God showed His great love to us in that while we were yet sinners, Christ died for us."
– Romans 5:8
"We're all bastards. But God loves us anyway."
– Writer/Preacher Will Campbell's paraphrase of Romans 5:8
Todd A. Thompson – May 13, 2012