It's April 11, 2014. Grandma Thompson would have been 114 today. Practically no one lives that long. She made it to 90, which is a pretty fair go at it.
A full blood Swede, her parents came over from the old country. I got my love of coffee from her. If you're Swedish, first you have coffee. Always. Then you do the next thing. But not before. First you have coffee.
Because her generation, the greatest generation, was one of immigrants from Europe and Scandinavia, she was interested in where people came from. If you said your name was "Anderson" she'd ask whether you spelled it with an "o" or an "e". Because if it was an "o", you came from Sweden or Norway. If it was an "e", you came from Denmark.
For years she matter of factly told me that in heaven, everyone will speak Swedish. I accepted this at face value until I was about 17. I asked, "Grandma, how can you possibly know that?" Grandma said it was because all the Swedes she knew wouldn't be smart enough to learn another language.
My Grandfather courted her with great persistence. She didn't play easy to get. In her late 80's she wrote a letter to my cousin. "I once told your grandfather it would be a cold day before I ever married him. It was. -30 below zero on Christmas Eve 1924."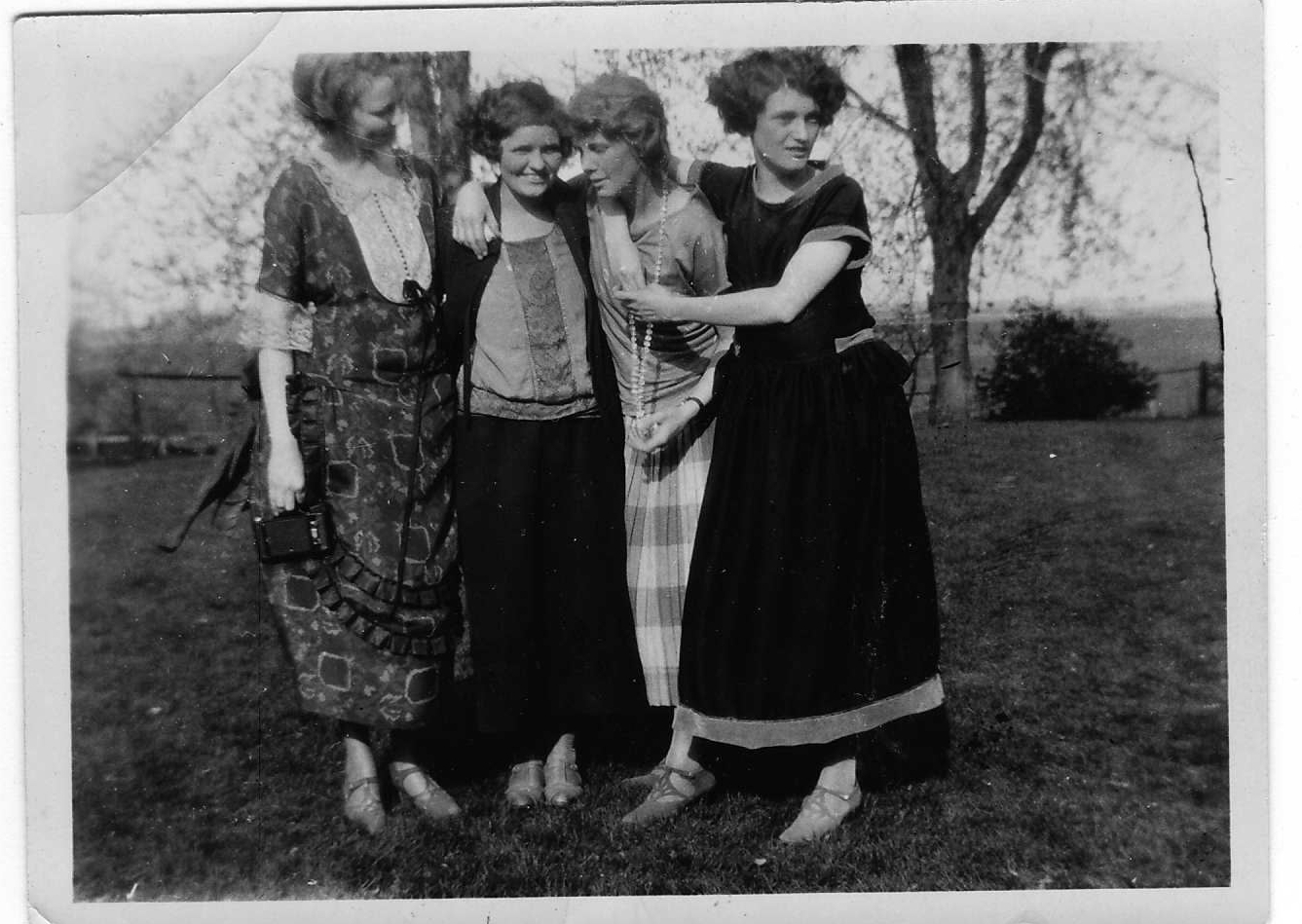 She was an Iowa school teacher and high school principal in the early 1920's. A life long learner, she read continually, including her Bible. She taught Sunday School classes, mostly to adults, for over 70 years. She did the Jumble word puzzle in the newspaper every day. She would also politely beat you in Scrabble anytime you wished.
In 1929 while living in Minneapolis, she and my grandfather and my Uncle John who was 6 months old at the time were broadsided by a drunk driver behind the wheel of a milk truck. She spent 7 months in the Anker Hospital. Because they didn't think she would make it, they didn't bother to put her in a body cast right away. She vividly described her nightmare the first time they gave her morphine for the pain. She dreamed that, beginning with her toes and moving upward, she could feel herself dying, slowly and surely, one square inch at a time. It was so terrifying she told them never to give her morphine again. The accident left her with a limp for life.
While from time to time she would reminisce about her teenage athletic accomplishments like swimming a mile across a lake, I don't recall her ever complaining.
It was easy to remember how old Grandma was. Whatever year it was, that's how old she was. Born in 1900, she lived in real time what I read about in my history book. Imagine being born before plastic. She marveled at every advance in technology because she lived through the days of gas fired lamps, walking rain or shine to a one-room country school, and coal fed furnaces. I was with her the day Neil Armstrong walked on the moon. She stared at the television in disbelief, remembering that for her it wasn't long ago that a 20 mile trip to Fairmont, MN in a horse drawn wagon was a grand adventure.
The speed of advancement never ceased to amaze her. When, as a college student, I explained word processing on a computer, she stared at me, her hand holding her chin. Shaking her head she said, "It's beyond my absolutely."
She lived through World War I and the Great Depression. As with most everyone who endured those years, she became resourceful in creating something out of seemingly nothing. She made the family's clothes on her pedal Singer sewing machine. She pedaled so fast you'd have thought it was an electric. She made clothes for my Dad out of feed sacks. She knew how to grow fruits and vegetables, how to can and preserve them. She made homemade soap that would laugh at grease, blood and grass stains before making them disappear.
During World War II, three of her brothers went to help save the world from the evil that was Hitler, Mussolini and Hirohito. They didn't see one another for over three and a half years, serving in the Pacific and European theaters. During that time, she cared for her father who died of stomach cancer, while working as a mom and farm wife.
Our immediate and extended family remembers her kindness, her hospitality and her food. On the Iowa farm breakfast is what you eat in the morning, dinner is what you eat at noon, supper is what you eat in the evening. Lunch is what you eat at 10 AM and 4 PM. Coffee, of course. And something to go with it. Because according to Grandma, you can't have coffee without something to go with it. Her culinary spreads were legendary in our family. Yet she never thought it was enough. In a letter written in the late 1930's, she said, "Had the family over after church. I made Parkerhouse rolls, a three bean salad, deviled eggs, glazed ham, escalloped potatoes, baked chicken, oyster dressing, green beans, homemade apple pickles, cherry sauce, brownies and a lemon cake….it's getting to where I just don't know what to make for dinner anymore."
Grandma wasn't perfect. But I thought she was. As a kid I'd often stay overnight on Saturdays. Sunday mornings I'd wake up in the guest bedroom to the smells and sounds of bacon and eggs frying. Coffee boiled in the old white enamel pot into which she'd throw eggshells to settle the grounds. In the background could be heard programs on the AM radio like "The Heaven and Home Hour" and "Chapel of the Air". Grandma could cook. Dining with her was an experience. She was the slowest eater in the history of mankind. Some of her unfinished meals date back to the Hoover administration.
I have a picture of Grandma and Grandpa on their 54th anniversary, Grandma wearing the "going away dress" she wore on her wedding day. It still fit perfectly. My Grandpa Thompson died in 1981. He and Grandma had been married 57 years. With some help, she stayed in her home for a time. When it became clear that she was no longer physically able to live by herself, she moved in with my parents.
Even though her home was only a half mile away and there was no pressing need to do so, she insisted on taking inventory of her home and dividing up her possessions among her two sons and six grandchildren. We all thought it was premature and told her so. I asked, "Grandma, why are you doing this now? You're going to be around for a long time." She responded, "I learned it from my mother. Do your givin' while you're livin' so you're knowin' where it's goin'." She took great joy in seeing her things given away to be treasured by her family.
I had the privilege of preaching her funeral when she passed at 90 years old. On that day Gladys Kluger, a friend of Grandma's since before 1927, pulled me aside and said, "In over 60 years of knowing your Grandmother, I've never heard her say an unkind word about anyone."
Come to think of it, I never had, either.
The only time I ever heard her come even close was in her story about acquiring an antique buffet. She and my Grandpa were at an estate sale in the 1930's. "Mrs. Johnson was bidding on it, too. The price was getting up there beyond what we could really afford. But I told your Grandpa that I thought Mrs. Johnson could probably do without that buffet." They paid $12 for it. It's now in my kitchen, a tangible memory of decades of wonderful food served with love to family and friends.
Summing up a person's life in a short column, a eulogy or even a book, is impossible. We are each one so much more than the memories people have of us. Yet it's the memories that remain after the person is gone. Let's live our lives in such a way that the memories we leave with others will be sweet. That we will be remembered fondly as one who, with all our quirks, loved God and loved people.
Todd A. Thompson – April 11, 2014