God can. So why doesn't He?
During my seminary years I had a cleaning business. All it took was one ad in the Mesa Tribune to get me started. "Thompson Cleaning Service. Trained by meticulous Grandmothers."
I was off and running.
One of my customers referred me to a lady named Becky Osburn. A single Mom of two teenage boys, she was very kind and on the quiet side.  As a teacher/reading specialist, Becky loved to help kids struggling with words.
She became a regular on my weekly schedule. I cleaned her house every Friday for 5 years. What started as just another cleaning job became an excuse to visit with a good friend.
Becky battled cancer the entire time I knew her. She endured many painful, invasive treatments and procedures. Fiercely independent, she was determined to win.
One Friday afternoon, as I worked my way around Becky's living room with an ostrich feather duster and a can of Lemon Pledge, Becky was sitting at her kitchen island. She began to speak to me but stopped. Getting a tighter hold on her coffee mug, I sensed she was trying to put words to something difficult.
"Todd, when the time comes…would you do my memorial service?"
When she said it we looked at each other the way one looks at an airplane that's been circling for hours and finally lands.
I said I would be honored.
I could make Becky's furniture shine. I could make her chrome fixtures sparkle. I could make her windows spotless.
There's nothing I could do to stop her cancer from spreading.
But God could.
So why didn't He?
A year and a half later I got a phone call. Becky was in the hospital. They soon moved her into the hospice area of Desert Samaritan. The nurse told me the best time to visit would be very early in the day.
It was 6 in the morning when I pulled a chair up next to her bed. The nurse brought in two cups of coffee. It was a moment of quiet conversation between two friends. Except this time we weren't in her cozy home. There was no denying the reality of her physical deterioration any more than one could ignore an elephant at the kitchen table. We honored the moment by talking openly and honestly about life, death, and God.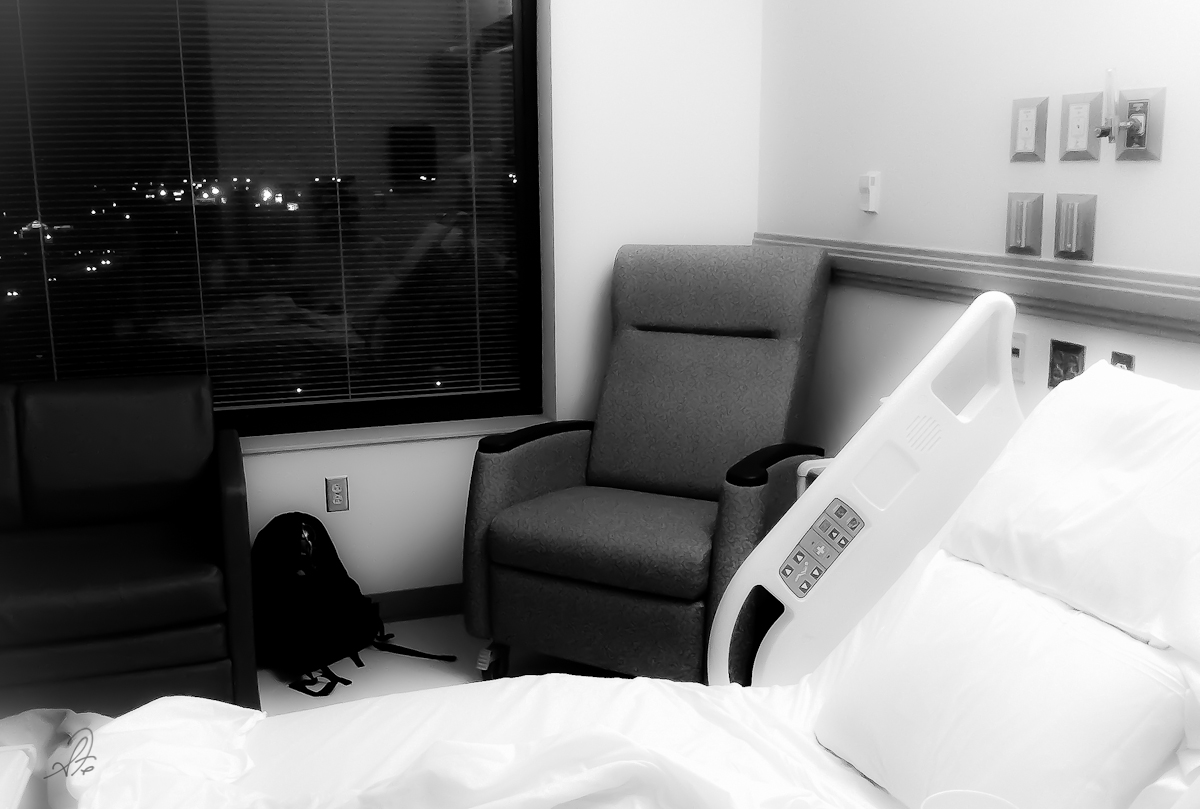 I asked questions and took notes as she explained what she wanted me to communicate at her funeral. When she finished, I read Psalm 103. It's a rich, wonderful text that speaks to the brevity of our life on this earth and the marvelous unconditional love of God.
The unconditional love of God. Cancer. Hospice. How do these go together?
Our coffee cups were about empty. Becky was getting tired. I closed my notebook. But there was one more question to be asked.
"Becky, there's something I'd like to know. You've been fighting cancer ever since I've known you. You've prayed for God to heal you. Your family and friends have prayed for God to heal you. Yet here we are, talking about your memorial service. How do you square that in your mind?"
Her answer was spot on. Theologically solid and sound.
"I know God has the power to heal me. But it may not be His will to heal me. Sometimes we need to stop trying to figure it out and just trust God."
God could. But for His reasons, He didn't. And when He didn't, Becky trusted God for what she couldn't see or understand.
Isaiah 55:8-9 reminds us that, in the same way the heavens are higher than the earth, God's ways are higher than our ways. His plans transcend our own. For people who like to be in control, who like to set the agenda and the direction of life, people like me (and maybe you?), this is a hard truth.
When God's plans apparently run contrary to our own, we are quick to ask, "why?". And God does not refuse us that. He wants us to bring our questions, our pain, and our confusion to Him. Yet it remains His prerogative to allow our "why?" questions to go unanswered. It is in these seasons we must acknowledge God is God, and we are not. And to remember His Father heart toward us.
Becky prayed for healing. Yet her love for God wasn't conditional. Her view of Him didn't depend on His answering her prayer to her satisfaction. She recognized God's sovereignty.
She didn't understand the why.
Neither do I. And maybe, neither do you.
In times of pain and confusion, it's better to ask "what?" than "why?". The "why?" we may never understand. Yet God will always answer the "what?" questions.
"God, what would you have me learn from this experience?" 
"God, what are you trying to teach me through my pain?"
"God, what qualities are you trying to grow in me?"
God can. And He may. Or He may not.
Whether He does or does not, His love for you is unconditional and His commitment to you unwavering.
Because sometimes we have to stop trying to figure it out and just trust God.
"Trust in the Lord with all your heart and lean not on your own understanding. In all your ways acknowledge Him and He will direct your paths." – Proverbs 3:5-6
Todd A. Thompson – One Eye Out