It's among my most prized possessions. Impractical as it seems, it would be something I'd try to carry out with me if the house was on fire.

Part of my life journey included 14 years in the East Phoenix Valley.  I went there in 1993 for graduate school and ended up staying. For an Iowa farm boy who had never lived in a town larger than 10,000 people, I adjusted surprisingly well. Phoenix became "home" to me. I even got used to the relentless summer heat. At least until September when friends from Iowa would call to say they had their leather jackets on because it was going to be chilly at the football game. I'd tell them it was still 110 degrees where I lived and then hang up. Yet for 7 months out of the year, I wondered why anyone would want to live anywhere else.
Living in the East Valley, I didn't have to go anywhere to feel like I was somewhere. I'd step outside to see the Superstition Mountains to the east and Camelback Mountain to the north. Palm trees and colorful bougainvillea all around. I channeled the energy I'd used back on the farm cultivating corn and soybeans into growing roses. I planted 20 of them and would have as many as 400 blooms at once. I trained my grapevine to grow underneath the roof of my patio. Big clusters of red seedless grapes hung all the way across. My fig tree was gnarly and prolific in its harvest. On spring evenings I'd crack the window of my office and be intoxicated by the delicious scent of blossoms on my "fruit cocktail" tree, half lemons and half oranges on the same tree. In the middle of it all, a small rectangle of Bermuda grass I nurtured into a lush, weedless patch of barefoot paradise.
The best part of Arizona was my circle of friends. Some endured the long haul of a 94-hour Master of Divinity degree with me. With others I  played in worship bands and planted a church. We did life together. Marriages, births of children, career changes, chronic illnesses, relocations, the deaths of parents and every other rough and tumble event that comes with living in a fallen world. We celebrated the good times with food and laughter and grieved with one another in times of sorrow. Simply put, we lived out the "one another" commands of Jesus very well.
In October of 1996 my spouse of 16 years changed her "I do" to "I don't" and bailed. It took me 10 months to sort through the mess I'd been stuck with. Then it was time to move. Because I'd go anywhere to be with my daughters, regardless of circumstance.
On August 11, 2007 the people I'd done life with sent me off with a going away party. Instead of the usual guest book, my dear artist friend Lisa bought an old door. She painted one side of it, attached some antique hardware and had everyone write on it with a Sharpie. A going away door. Very creative. And symbolic. As my friend Steve Reed penned above his name, "A door opens…"
Indeed. I didn't want this one to close. In the words of Semisonic, "Every new beginning comes from some other beginning's end."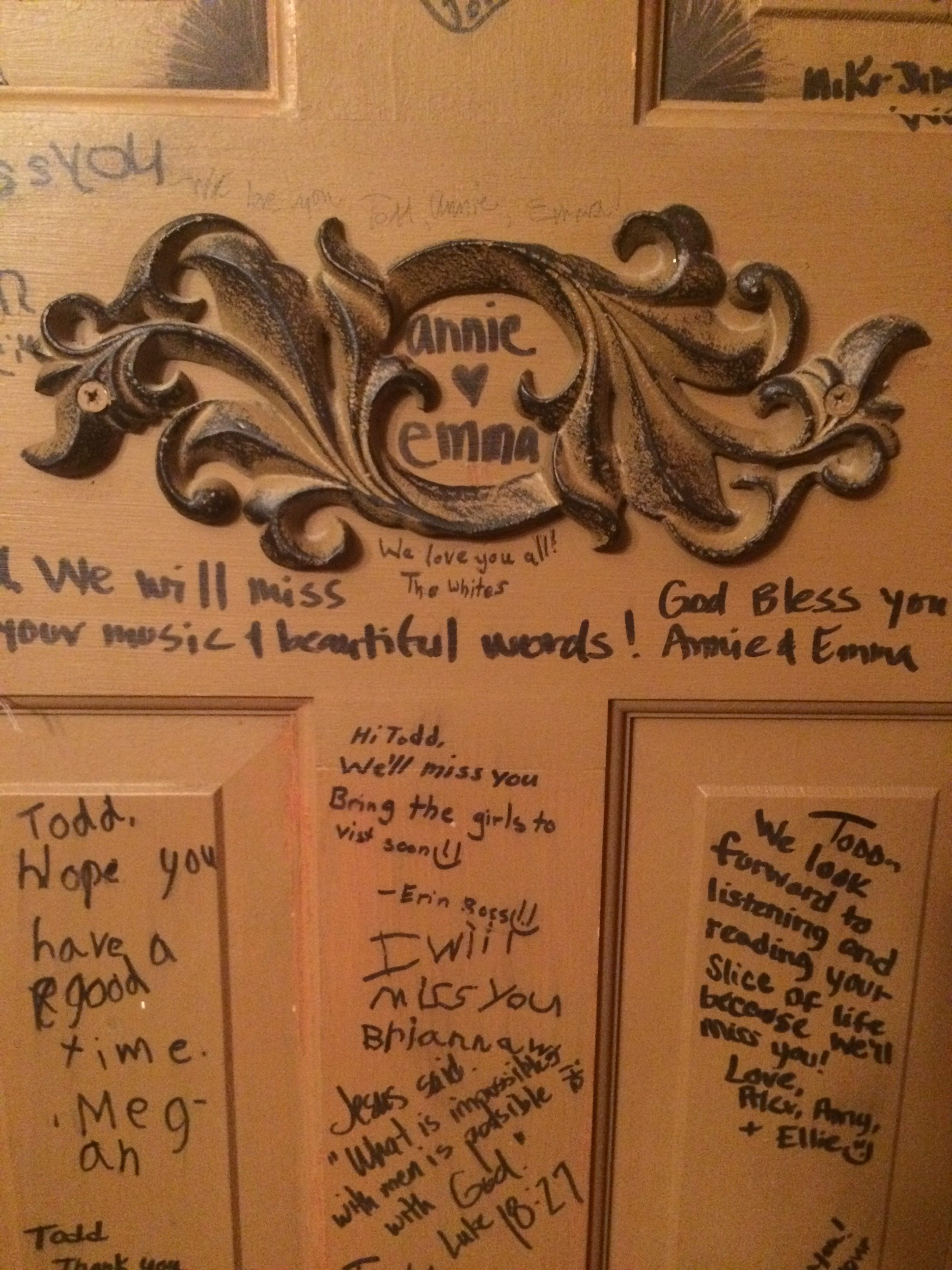 A new beginning. I was starting life over from scratch at 44 years old. Moving to a place I never wanted to live under circumstances I didn't ask for. On a good day, one of the loneliest stretches of road in America is Interstate 10 between El Paso and Ft. Stockton. When you're driving it alone into an unknown future, it's almost unbearable.
9 years ago my life was a sad country song. Abandonment, divorce, starting over. I rolled into Lubbock with nothing but a U-Haul and my dog. Then my dog died. Starting life over in your 40's is every bit as ugly as you can imagine. There's no way to sugar coat my first four years here. They were hell.
But I had my door.
On the bad days I'd go read my door. "You are a mighty warrior. God will sustain you." "Thanks for being an example of faith." "You and your ministry will not be forgotten." "You are a great Dad. Keep loving your girls." "We will miss you." "We love you." I recall one particularly agonizing evening. Overwhelmed with pain and loneliness, missing all my friends in Arizona, I read every single word on my door. When I finished, I hugged my door and cried.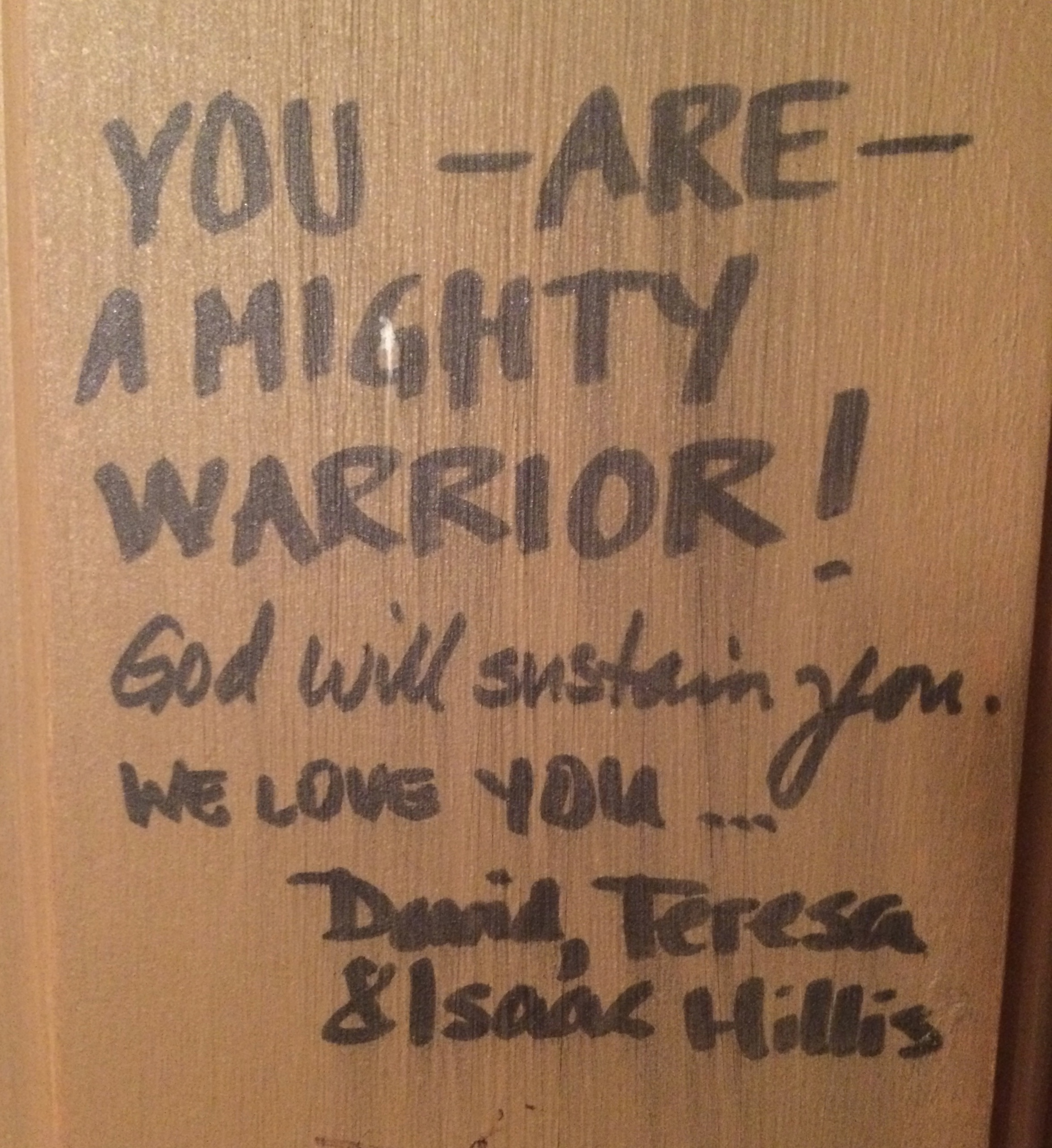 When God leads you into the wilderness it's easy to lose your sense of direction. So far away from the familiar, we wonder if what we remember is even real. We fear that we'll never get a glimpse of the Promised Land, let alone enter it. To that end, my door has been a compass of sorts. A tangible remembrance of a time that was real, filled with real friendships, real ministry, and real life.
If God did that once, He could do it again.
God has done it again. He's blessed me with new friends, new ministry and the opportunity to teach Bible to future adults at Trinity Christian High School. I'm with my daughters. He's blessed me with a wonderful wife and a fixer-upper house that we'll be fixing till Jesus comes back. But it sits on our little spot by the lake, under the hackberry tree where the woodpeckers peck and the doves talk to each other.
Another place I never thought I'd be. But this time the song is a happy one.
If you're in the middle of a wilderness, know that God's promises are true. There is an end to this struggle. There is a Promised Land for you. It may be hell getting there. But God is always faithful. His plans for you really are to give you a hope and a future. My life is proof of that.
If you're in the middle of a wilderness and that sounds too good to be true, shoot me an email. I'll be happy to listen. And to point you to the God Who can and will do above and beyond what you could ask or imagine.
"For I know the plans that I have for you,' declares the Lord, 'plans for welfare and not for calamity to give you a future and a hope. Then you will call upon Me and come and pray to Me, and I will listen to you. You will seek Me and find Me when you search for Me with all your heart.  I will be found by you,' declares the Lord, 'and I will restore your fortunes and will gather you from all the nations and from all the places where I have driven you,' declares the Lord, 'and I will bring you back to the place from where I sent you into exile." – Jeremiah 29:11-14
Todd A. Thompson – toddthompson.net