Early morning thoughts on this Thanksgiving 2020…
I snapped this photo just a few minutes ago. No one does pink and orange mornings like God. It's quiet for the moment. The only sounds the ducks, geese, and occasional bass breaking the water, jumping for his breakfast.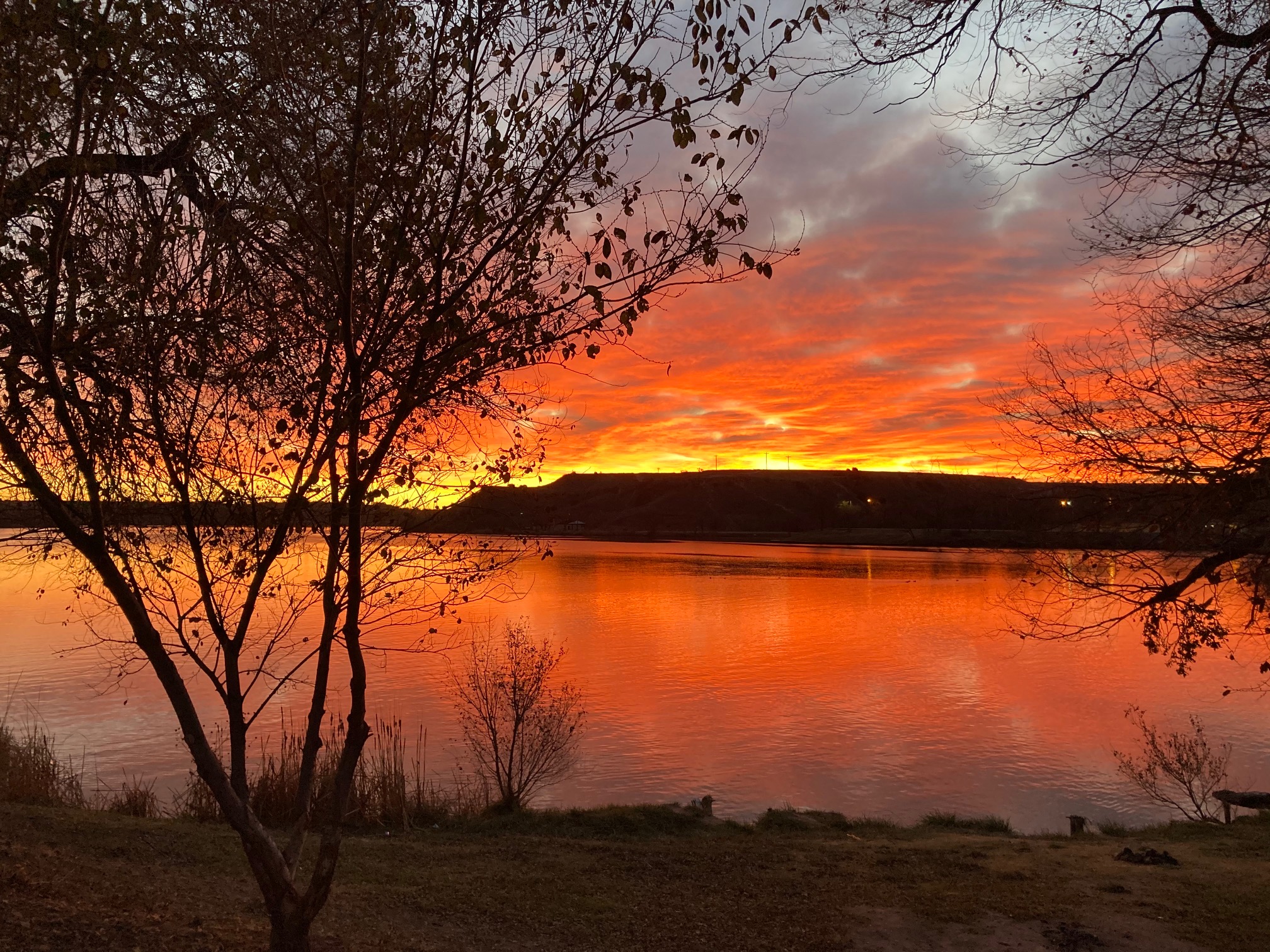 Thanksgiving. The day we are to give thanks and count our blessings. I'm all for that. Every time I do, I realize how much I have to be thankful for. Not the least of which is God who is the Giver of all good gifts.
Yet if I'm honest, blessing counting can feel like an orchestrated distraction. A "look over here!" away from the pain of life. So much so that to even admit sadness or loneliness on Thanksgiving feels like a slight against God. After all, if the blessings outnumber the deficiencies then how dare we mention our empty places?
It's safe to say in our growing up years that parents' common response to our complaints was to remind us that, "other people have it worse". Which is, in nearly every instance, always true.
The "other people have it worse", while true, doesn't mitigate one's personal pain. It's not unlike a one-armed man saying to a one-legged man, "At least I have two legs." The acknowledgment doesn't compensate for the loss.
Though it sounds like a Hallmark Card, an "attitude of gratitude" really is a thing. I preach it regularly to myself and to my students. I truly believe it is the best way to live life this side of heaven. To daily acknowledge the abundance of blessings we receive from God.
Yet every Thanksgiving in the middle of blessing counting and giving thanks there's a sticking point. Kind of like post-turkey dinner kitchen counter clean-up when the paper towel meets the dried cherry pie filling. It doesn't come off easily.
What to do in that moment when the long list of blessings doesn't compensate for the empty places?
Gratitude for food doesn't compensate for the hunger of the heart.
Gratitude for family members doesn't compensate for the empty place at the table.
Gratitude for friends doesn't compensate for the absence of a best friend to do life with.
The deficiency lies not with an attitude of gratitude. Rather in our perspective. As the man who offered the eulogy at actor James Dean's funeral said, "Man is inherently a little bit lonely. Because we are overbuilt for this world. All of God's other creatures reach their fulfillment in this life. Man does not."
This side of heaven, we count our blessings while acknowledging the empty places and spaces. Places and spaces once occupied by people and things special to us. Places and spaces that will remain empty on earth, filled only in heaven.
This Thanksgiving, count your blessings. But take a moment or two to acknowledge the empty places and spaces, too. Those places and spaces are real. And significant. They point us to the fact that, thankfully, this life isn't all there is. Remind yourself of God's truth. Because of Jesus, we have a hope.
"Let us hold fast to the confession of our hope without wavering. For God who promised is faithful." – Hebrews 10:23
Todd A. Thompson – One Eye Out