Do you remember the most delicious food you ever tasted?
It's late July of 1989. I'm in Milwaukee, WI on business. While there, I have the opportunity to meet up with three college friends I haven't seen in a couple of years.
We land at The Beer Barons, appropriately named as it was located in an old brewery. They'd done it up right, maintaining the original architecture, structure, and history of the building. It was old school cool and my kind of place.
We were escorted to our table, covered with a white linen table cloth, a candle, and a single red rose in a crystal bud vase. In the corner of the softly lit room, a musician behind a baby grand piano alternated between classical pieces and old jazz standards.
Our waiter presents himself. Dressed in black pants, a crisp white long-sleeve shirt, a black silk tie, and, tied neatly around his waist, a black apron. We'd already seen the menu posted in the lobby and all agreed we were going for the coffee and cheesecake.
The coffee comes first. For me, one of life's best pleasures is freshly roasted, freshly ground, freshly brewed coffee. Heaven in a cup.
He returns with a tray. In front of each of us, he places a white china plate on which is a surprisingly large wedge of cheesecake.
Have you ever been presented with food too pretty to eat? This wedge of cheesecake is expertly sliced. Beside it, three plump, fresh red raspberries and a sprig of mint. It looks like something out of Bon Appetit.
We are all taken by the elegant presentation. Then I notice our waiter is still standing by the table, hands politely crossed in front of his black apron. It took me a second, but then it clicked.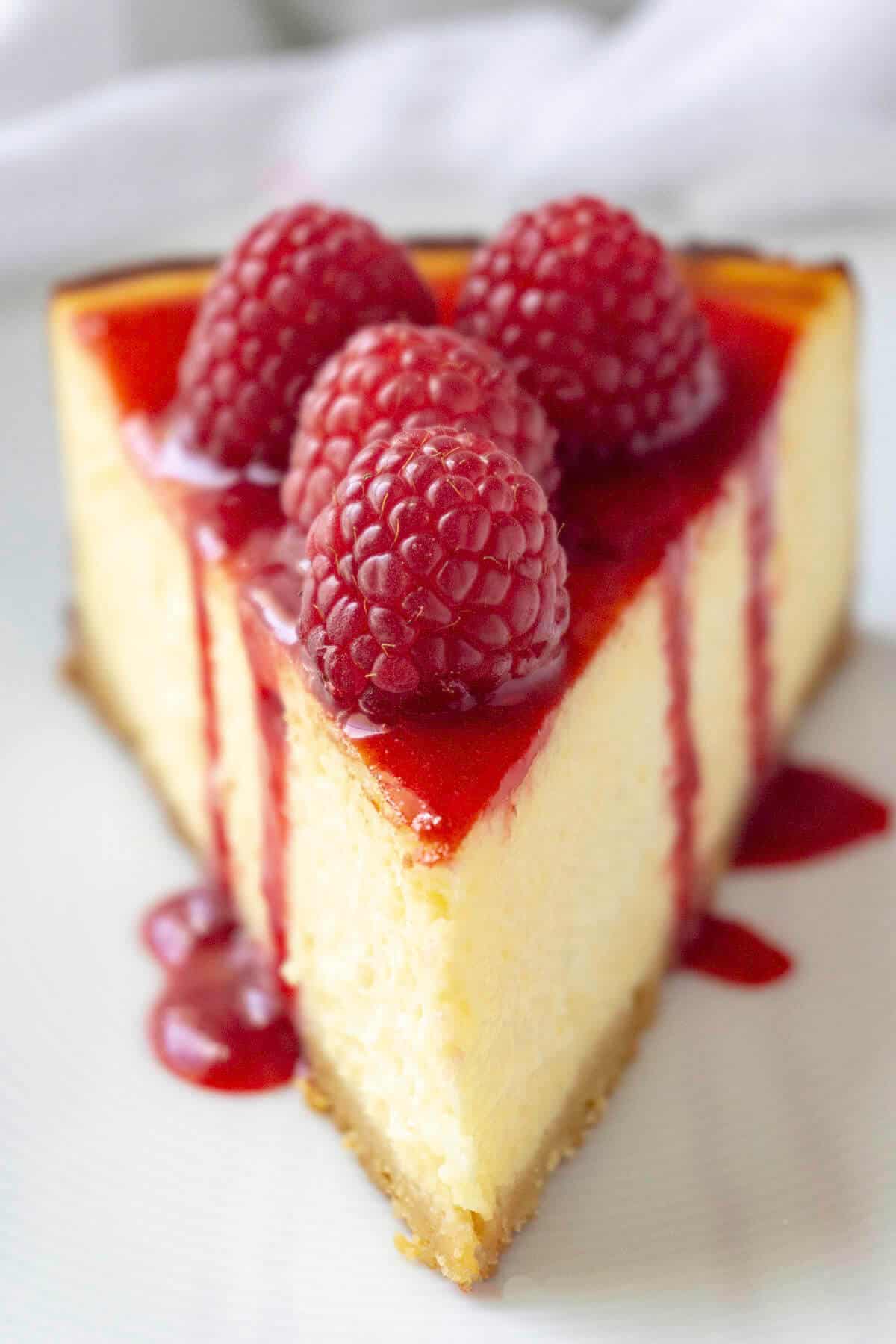 He was waiting for us to take the first bite.
I pick up the fork. It's heavy. It has weight and heft. As the tines of the fork slide down into the cheesecake, I can tell this is going to be an amazing dessert. Because, unlike the whipped air that most restaurants try to pass off as cheesecake, this dessert is dense and rich.
The first bite now sits on my fork.
Have you ever tasted something so delicious that you are momentarily transported? When that cheesecake introduced itself to my tastebuds there was a brief moment I didn't know where I was. I couldn't have told you if I was in Milwaukee or Moscow.
When you taste something so incredible you want to talk about it. To describe to someone how amazing it is. But the words just wouldn't come. The left side of my brain would throw up an adjective and the right side of my brain would knock it down saying, "Inadequate! Try again!". And the left side would throw up another superlative and the right side would slap it away saying, "No! Not good enough!"
I sit there, searching for words while my taste buds explode. I look up at the waiter. I'm trying to speak, but there are no words.
The waiter nods, puts his hand on my shoulder, and with a look of kind understanding says simply, "I know. I know."
This cheesecake was so dense and rich that you couldn't have eaten quickly if you wanted to. And we didn't want to. We spent just shy of two hours savoring small delectable bites while our conversation flowed like the coffee the waiter kept pouring into our cups.
This cheesecake was a dessert so wonderful we didn't want it to end. It was a memorable night of delicious food and deep friendship. So memorable that I'm able to describe it to you in great detail some 32 years later.
That cheesecake presents a challenge to my theology. It was so wonderful that it brought tears to my eyes. The Bible says there will be no tears in heaven. By extension, this means that cheesecake won't be in heaven and I'm not sure I'm ready to accept that.
Psalm 34:8 says, "Taste and see that the Lord is good! How blessed is the man who takes refuge in Him." Have you tasted the goodness of God? Have you sat, surrounded by His blessings, overwhelmed by the sweetness of His mercy and grace? Have you experienced the love and forgiveness of God that defies description?
When we experience God in His purity and His fullness, there are no words to describe it. Unlike the airy cheap imitations life tries to pass off as satisfaction, there is a dense richness to God's truth. When we taste it, we want more of it. And why wouldn't we? "In God's presence, there is fullness of joy…" – (Psalm 16:11)
Take some time today to "taste and see that the Lord is good".
Todd A. Thompson – One Eye Out